Posted by Aimee Talbot on 18th Nov 2014
A while ago I wrote a post on traditional painted checkerboard floors and how to paint a floor. But the checkerboard design was just the beginning. I've also seen some great ideas for other styles of painted floors. Some can be a bit whacky and perhaps too outrageous for most of us. I mean, you look at the floor every day and you need to be happy with your floor treatment for years, so you might get fed up with the "urban graffiti floor" look quite quickly!
But I also found some classic designs that give a beautiful look without swamping a room.
Stripes are very traditional – they are one of the painted floor styles that would have been seen way back when. (Because decorative painted floors are not a new idea in decor… they were a popular feature in American homes as long ago as the late 1700s.) The simple painted floorboards in this coastal cottage style room look clean and fresh.
Here is a similar look on a deck of a different house. It would work well in any porch or sunroom too. The nice part about painting each individual plank is that it's a much easier job! You don't have to figure out how to line those stripes up so they aren't wobbly.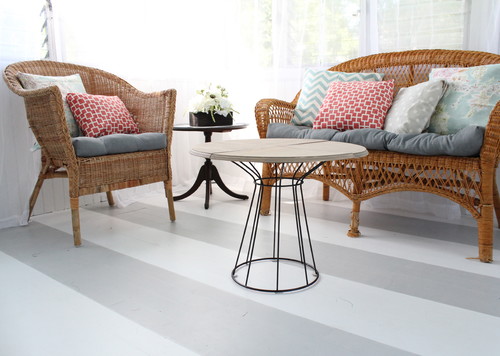 But if you have a hardwood floor like this one and you aren't painting the individual floorboards as such, then you might have to reach for the painter's tape. A tutorial on Houzz on how to paint stripes on your floor shows how this enclosed porch in New England got a facelift. There are some great tips in the tutorial and the before photos (utilitarian and uninviting) and the after photos (light and breezy) are worth seeing. (While you are on Houzz, we'd love you to pop over and see our EuroLuxHome Houzz page.)
Or how about this elegant plaid painted floor? This otherwise quite simply constructed dining room is given heaps of charm by the grey plaid design on the floor. Because the floor is painted in similar tones to the walls and other decor, it blends in without looking noisy.
Chandeliers always kick a dining room up a notch too… but I'm biased because I get to see and handle so many gorgeous antique and vintage chandeliers in our gallery each day!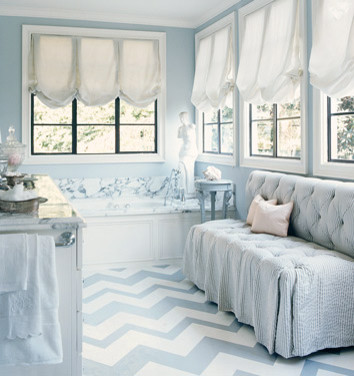 I'm guessing that a lot of people look twice at this bathroom's painted chevron stripe floor. They probably assume it is a carpet or rug at first glance. The pattern wouldn't look out of place on a textile, so I think that's why it works. Also, the chevron is slightly irregular, which tones down the visual punch. If all the zig-zags were the same width, it might look a bit like old-fashioned TV interference! As it is, the painted chevron floor looks light and pretty and a bit playful against the otherwise formal decor with a marble bath and swagged drapes.
If you want take it up another notch – pick a stencil! The large stylized flower pattern stenciled on this vintage kitchen floor covers up damage to the original hardwood flooring. The lovely honey tones of the fir wood floorboards still show through, but the stencils disguise the damaged sections. By the way, the original kitchen had a huge 1950s-style stove, but although the new owners couldn't keep that, they did keep another memento from the past. The wall art came from old newspapers the owners found in the cabinets – they tore out some pictures to frame. How cool is that?
If you have painted floor designs in your home, we'd love to see the pictures! You can contact us at this blog or just show us your photos on our Facebook page.
Aimee owns EuroLuxHome.com with her husband and best friend, Greg. Aimee sources amazing antique furniture, vintage lighting, & high-quality reproduction furniture to help her customers decorate their homes in a unique way. She loves her 8 (you read that right) fuzzy children and is renovating a 1920s bungalow in South Carolina. Find us on Facebook or connect with Aimee on Google+ Or you can sign up here to receive this blog in your inbox.