Posted by Aimee Talbot on 28th Oct 2014
As I said last year in my Vintage Halloween post, Greg and I don't make a big celebration of Halloween, although we usually watch a creepy movie. But even those of us who don't want to festoon our homes with plastic spiders can still get 'into the spirit' of Halloween with these elegant Halloween decor ideas.
An easy way to create grown-up and elegant Halloween decor is to strip out the orange plastic, the red blood, and the green Zombie brain slime! Go for monochrome with black, white, or black and white.
Black is Gothic, white is eerie and ethereal, and the two together always look stunning, providing a dash of vintage glamour. The table on the right is very simple, with just empty bottles for candlesticks. To create the look, use as many bottles as you can find of different heights.
Eclectic Living Room by St. John's Interior Designers & Decorators Seaside Interiors
Here's another example of how a simple black and white arrangement keeps all the Halloween elements (spider, pumpkin, bat, and boo!) but still looks chic. You probably already have some black and white decor items around the home… just pull them all together in one display.
How about this for a different type of bat-mobile? It's very easy to make with a branch and card, using the bat templates and instructions by clever Martha Stewart. Hanging in a window, it adds a traditional but still elegant Halloween touch to your home.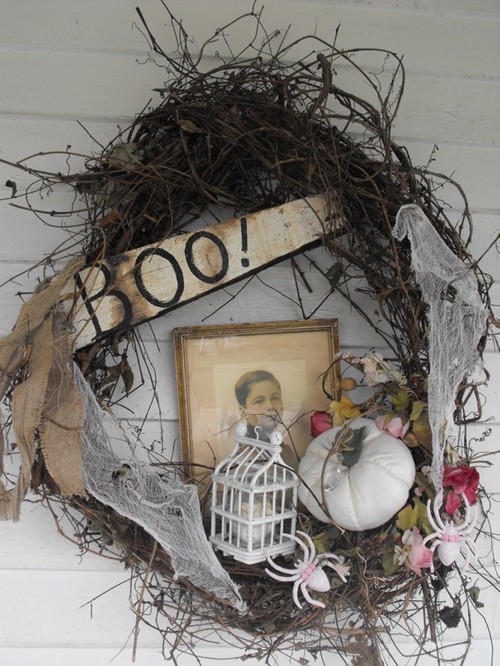 I love the nostalgic vintage appeal of this spooky wreath! Make it with some twisted vines draped with white net fabric and old-fashioned Halloween ornaments and sepia photographs. Paint Boo! onto a piece of scrap wood for the finishing touch.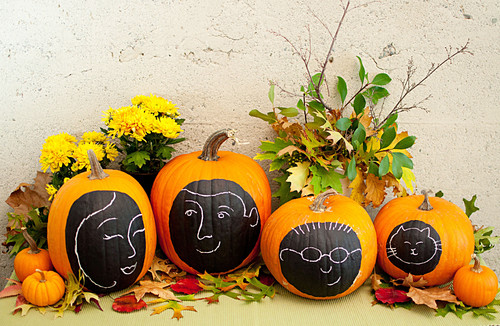 You can even add black and white to the traditional orange pumpkin to make it a bit different. Paint a pumpkin with a circle of chalkboard paint and then let your inner Picasso out! For a Halloween party, it would be fun to have the pumpkins painted with the black, and then give your guests a piece of chalk to create their own fantasy face.
For an elegant Halloween cocktail, this blackberry infused Mr. Hyde Potion is perfect for dark and mysterious strangers. It's not exactly black and white, but it's near enough. The Mr. Hyde Potion cocktail mixes vodka with parfait amour liqueur, blackberry liqueur, and tarragon and lavender syrups. Wow. You can get the recipe from HGTV. Serve the cocktail (or any cocktail) in an apothecary style jar to add to the Halloween atmosphere.
Or, for a bit more color, you could play Dracula and mix up a Bloody Mary to sink your fangs into. My Uncle Dick's Bloody Mary recipe is always a monster hit!
I hope you've enjoyed these elegant black and white Halloween decor ideas I scared up for you! If you have any more to share, let us know. You can post your photos on our Facebook page too.
Aimee owns EuroLuxHome.com with her husband and best friend, Greg. Aimee sources amazing antique furniture, vintage lighting, & high-quality reproduction furniture to help her customers decorate their homes in a unique way. She loves her 8 (you read that right) fuzzy children and is renovating a 1920s bungalow in South Carolina. Find us on Facebook or connect with Aimee on Google+ Or you can sign up here to receive this blog in your inbox.