Posted by Aimee Talbot on 22nd Feb 2016
We have been selling on Houzz.com for less than two years but we've already found an enthusiastic following of home decor lovers who are quick to snap up our antiques imported from France, as well as our high-quality and hand-crafted antique-inspired furniture. We already won several home decor honors from Houzz including a Best of Houzz award for our customer satisfaction and service.
So I thought that for today's blog post I'd share with you three of the most popular items we've been selling recently on Houzz. It's a good way to take the temperature of the kind of things that Houzz folk are interested in right now in terms of home decor.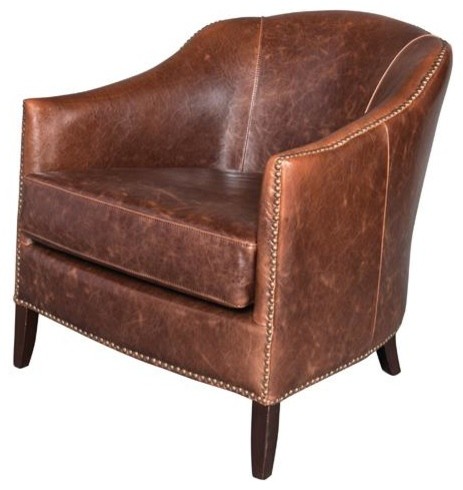 Leather Sofas and settees and leather chairs are very popular with the style-wise Houzzers, probably because leather upholstery looks good with any style of decor and stands up to tough punishment in daily wear. For example, this elegant but comfortable new Madison leather accent chair, superbly crafted with a solid wood frame featuring hand-applied nailhead trim. The weathered brown leather gives a classic aged effect. All you need is a good book or the remote control and a glass of wine and you are settled in for the evening!
Our new Aubusson hand-crafted throw pillows are also being snapped up left and right. We have many different designs in our wide selection of Aubusson throw pillows but they all of exceptionally high quality and craftsmanship. This 20″ x 20″ hand-embroidered throw pillow in traditional Aubusson style is a good example. The large embroidered flowers are perfect for a French Country living room or bedroom, and the pretty design is set off by a luxurious frame of green and bronze tassels. A zippered velvet fabric and a down and feather insert add to the comfort! A set of handsome throw pillows always adds a wonderful decorative touch to a room and the design of the pillows can really help pull together a color scheme.
Design savvy Houzz fans are also buying a lot of console tables from us.  A console table is so versatile and it can be used in many different ways in every room of the house. It can be a convenient storage table in a narrow hallway, a beautiful display table placed against the wall in a living room, or it can be placed as a visual divider between different areas of a room. One of our most popular console tables is this gorgeous solid wood Woodbridge Marseille console table with a hand-waxed cherry veneer.
I think that a good leather chair or sofa, attractive throw pillows and an eye-catching console table are all practical and beautiful investments in any home. Apparently the Houzz community agrees! What do you think?
Aimee owns EuroLuxHome.com with her husband and best friend, Greg. Aimee sources amazing antique furniture, vintage lighting, & high-quality reproduction furniture to help her customers decorate their homes in a unique way. She loves her 9 (you read that right) fuzzy children and is renovating a 1920s bungalow in South Carolina. Find us on Facebook or connect with EuroLux on Google+. Or you can sign up here to receive this blog in your inbox.