Posted by Aimee Talbot on 19th Jun 2015
My last posts were about decorative ways to display a collection and ways to display a ceramics collection. I've saved the sparkliest till last! Today I'm sharing some fabulous ideas to organize and display your jewelry collection in vintage style. 
This idea from the Better Homes & Gardens blog is charming. It's also easy to do. The framed jewelry display at the back is just a vintage style picture frame. You can paint any decorative frame you find in a flea market or thrift store. The back could be metal mesh or chicken wire backed with toile fabric for a French Country look. Or perhaps choose a heavyweight canvas – anything you can use to hook your earrings to the backing and pin up your necklaces.
Find a pretty vintage cake stand, either a metal one or a ceramic cake stand or another kind of tiered tray to add the finishing touch to the dressing table tableau!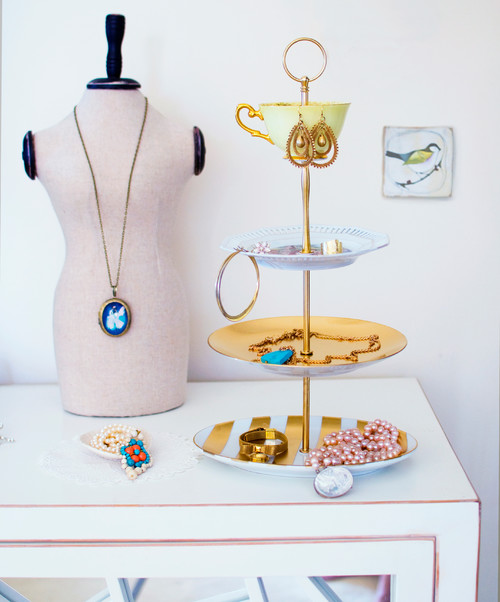 You can also make your own cake jewelry holder from vintage china. This tutorial on Houzz shows you how. It looks like a vintage cake stand with a twist! I think it would pair perfectly in the boudoir with our custom-made vintage tea service chandeliers.
For a more formal take on the picture frame idea, check out this Better Homes & Gardens suggestion. They've created a picture gallery of jewels! This would look at home in a Victorian bedroom. I guess the arrangement works best with a theme in each framed group. Put all your pearls in one frame, all your brooches in another, or perhaps group jewelry by color.
Or go completely crazy and deck a whole wall with baubles and beads! This jewelery display in a 1926 bungalow in Seattle looks just right for the space. It's also very practical as it's easy to spot the piece you want, then see how it looks in the ornate gilded mirror.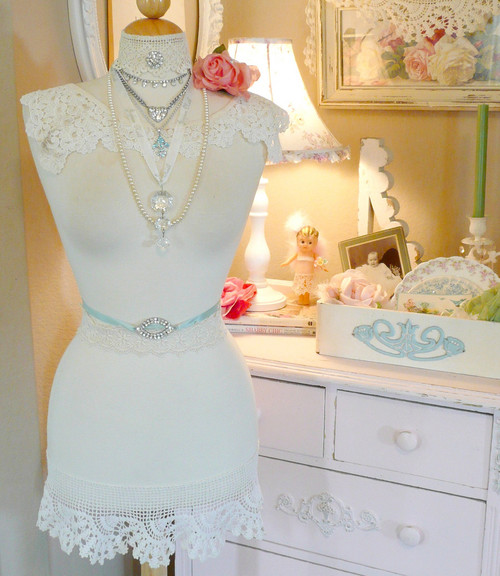 A dress form or mannequin is another vintage-inspired display idea that always looks pretty and romantic. Layer on necklaces of different lengths and a few brooches for maximum effect. You can also use a dress form to hold long silky scarves, or perhaps your favorite vintage hat of the moment.
If you have a collection of vintage brooches or earrings, cluster them closely together on a simple jewelry tree and let the jewelry itself do the talking… and the sparkling!
I can't finish this mini series about ways to display your collections without sharing this photo of Jake. He seems to be going with the "cluster everything together" theory to show off his collection of toys. I promise you that our real-life dog is in there somewhere!

If you have a collection featured in your home decor, we'd love to hear how you display it. You can also post a photo on our EuroLux Facebook page.
Aimee owns EuroLuxHome.com with her husband and best friend, Greg. Aimee sources amazing antique furniture, vintage lighting, & high-quality reproduction furniture to help her customers decorate their homes in a unique way. She loves her 8 (you read that right) fuzzy children and is renovating a 1920s bungalow in South Carolina. Find us on Facebook or connect with EuroLux on Google+. Or you can sign up here to receive this blog in your inbox.