Posted by Aimee Talbot on 20th Jan 2016
A few weeks ago I blogged about the Paint Colors of the Year for 2016, which are all soft whites. The only company that has spoken out for color this year is Pantone. The international color trend experts at Pantone picked a pink and a blue for their colors of the year 2016. The colors are called Rose Quartz and Serenity.
Pantone chose these soft pink and blue tones for the same reason as the paint companies who chose whites!
They say it's to create a sense of peacefulness – an escape from modern day stresses. The Pantone website says "Whether on their own or combined with other shades, the pairing of Serenity and Rose Quartz bring a feeling of calm and relaxation into the home environment."
This is the first time Pantone picked two colors rather than one. Last year it was the deep wine color Marsala, which I thought was a very nice shade for many different styles of home decor. The light pink and blue are a bit different. Pink and blue makes some people think of picking a color to paint the nursery for the baby! Other people might be reminded of the 1980s.  But I think there are ways to work with Serenity and Rose Quartz in the home and still keep it looking grown-up and beautiful.
Here is one example. It reminds me of the decor I've seen in some old French houses and chateaux, where the soft pastel pinks and blues were a very traditional choice. High quality materials and fine finishes are important to carry off this luxurious look. A touch of gilding adds to the sophistication too!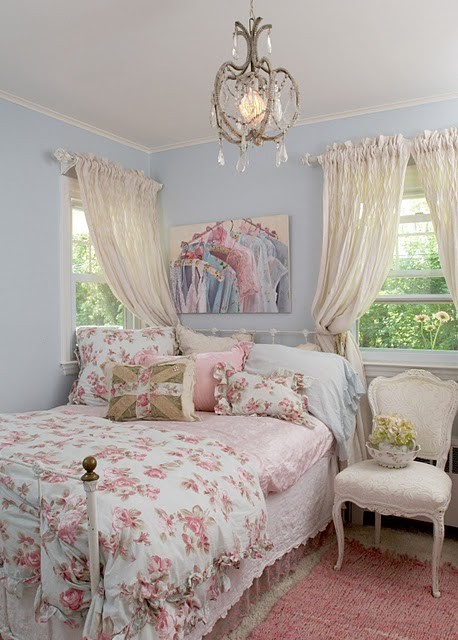 This is a sweet take on the same color combo. The romantic bedroom plays up the delicate tones by pairing them with flowers, bows, crystals on the light fitting, and sheer curtains. Even the image behind the bed of a rack of dresses has a floaty feel.


If all-out Rose Quartz pink and Serenity blue is too much for you, a few home decor accents can capture the tranquility of these colors.
This new Aubusson throw pillow blends similar shades of pink and blue beautifully. Crafted using traditional techniques to replicate antique French Aubusson pillows, the pillow has a floral design that would look very pretty in a Victorian bedroom or in a country cottage living room.
The airy weightlessness of the two colors also makes me think they will look good on glass. The softness of the colors matched with the shiny translucency of glass seems like a match made in color heaven!
I think the blue on the hand-crafted art glass shade of this new Dale Tiffany Blue Baroque table lamp looks very close to the Pantone Serenity shade.
The shade is made by glass artisans using traditional copper foil techniques and the pretty glass jewels add to the light and tranquil feel.
This amazing new Cyan Design Florence chandelier looks like a close match for Rose Quartz pink. The Murano glass style chandelier with its cascading swirls could almost be whipped up from pink clouds at sunset! Or maybe I'm just getting all romantic and dewy-eyed from looking at Rose Quartz pink and Serenity sky blue for too long!
What do you think of the Pantone colors of the year? Would you like them in your home? Would you combine them or just stay with one shade or the other?
Aimee owns EuroLuxHome.com with her husband and best friend, Greg. Aimee sources amazing antique furniture, vintage lighting, & high-quality reproduction furniture to help her customers decorate their homes in a unique way. She loves her 9 (you read that right) fuzzy children and is renovating a 1920s bungalow in South Carolina. Find us on Facebook or connect with EuroLux on Google+. Or you can sign up here to receive this blog in your inbox.