Posted by Aimee Talbot on 4th Aug 2015
Many of the French antiques and antique-inspired home accessories that pass through our hands at EuroLuxHome.com feature the fleur-de-lis motif. The fleur-de-lis is one of the most enduring symbols in furniture and home decor and it has appeared in art, architecture, and heraldic designs for many centuries. Here's some background on the fleur-de-lis and some ideas on how to incorporate this elegant symbol into your own decor around the house.
In French, 'fleur' means flower and 'lis' means lily, so a fleur-de-lis is a stylized lily. The one on this iron gate in New Orleans is a perfect example. It's also sometimes spelled as fleur-de-lys.
Although the fleur-de-lis has cropped up in architecture, arts, flags and heraldry all over Europe, it is especially linked to France and to the French monarchy.
It has appeared on French flags and coats of arms for around a thousand years, and later it adorned French postage stamps too. The king of Spain and the Grand Duke of Luxembourg also display the motif in their coats of arms.
This new handwoven Aubusson throw pillow (one of our selection of fleur-de-lis pillows) shows how regal the motif looks, especially in rich colors like gold and red. It's perfect for Renaissance style decor! The fleur-de-lis also works beautifully with French Country style.
There are various stories about the origins of the fleur-de-lis symbol, which also links it with the wild iris, but it was certainly used as a decorative or symbolic motif by the earliest civilizations as well as throughout European history.
The universal image also has religious meaning as a reference to the holy Mother Mary and it represents purity and chastity. With its 3 "petals", the fleur-de-lis also symbolizes the Holy Trinity. Not surprisingly, it is often seen in Christian religious art and on antique religious objects.
This 1880 French Gothic antique bench is heavily carved in oak with flowery details including a gallery of fleur-de-lis along the top of the bench back.
Because the classic lines of the fleur-de-lis work with any kind of design scheme, you can add a touch of regal style anywhere in the home.
Here the fleur-de-lis is hand-painted by an artist on the stove hood of a Tuscan style kitchen in San Francisco.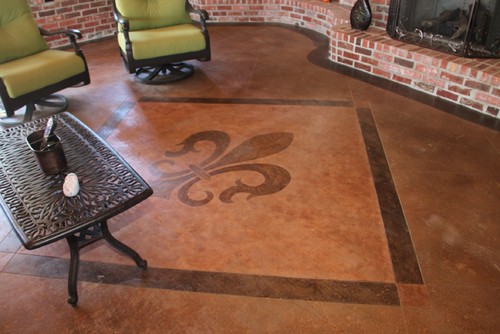 The symbol is stately but still quite subtle on the floor of this traditional pool house.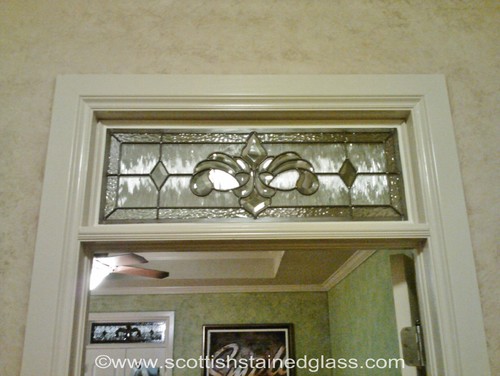 The flourishing symbol also glitters overhead in this glass transom over a doorway. What a flamboyant way to greet visitors!
The fleur-de-lis translates nicely to finials on wood or iron curtain rods. These style of rod for drapes is so popular, we are all familiar with seeing it,  but not everyone knows that it's a fleur-de-lis design.
Now you will start seeing fleur-de-lis designs everywhere!
Aimee owns EuroLuxHome.com with her husband and best friend, Greg. Aimee sources amazing antique furniture, vintage lighting, & high-quality reproduction furniture to help her customers decorate their homes in a unique way. She loves her 8 (you read that right) fuzzy children and is renovating a 1920s bungalow in South Carolina. Find us on Facebook or connect with EuroLux on Google+. Or you can sign up here to receive this blog in your inbox.