Posted by Aimee Talbot on 13th Dec 2014
Don't just deck the halls with boughs of holly… add the Christmas touch to every room!
I hope that my mini tour of different homes with their holiday decor will provide you with inspiration for traditional Christmas decor in every room.
Let's start our tour with the front door. This handsome front door in Atlanta, GA, is decorated with traditional greenery and red ribbons. But the black and white check ribbon adds a crisp touch and makes a great accent for the black door. It all looks charmingly vintage.
Moving into the foyer, the Christmas decorations on this splendid staircase in a home in Houston, TX, could be overwhelming as the scene is so ornate. But the single color tone – a lovely Old Gold – unifies the design and makes it look rich and harmonious rather than fussy.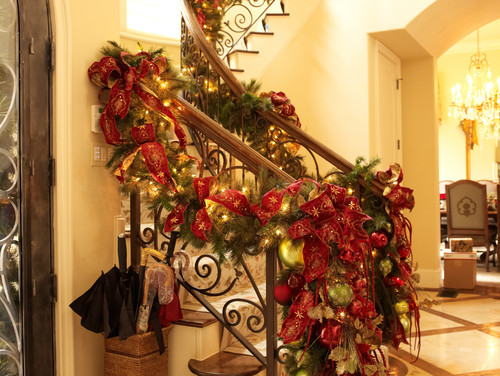 If you don't have such a huge and sweeping staircase in your foyer, then you can still make a small section of the stairway look wonderful. The key here is: Don't hold back on the swags and flourishes! And speaking of don't hold back…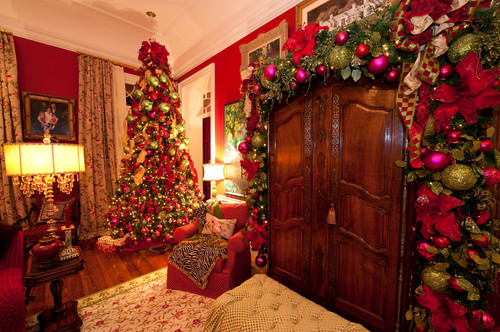 The flamboyant "more is more" approach of this Grand Colonial style living room is so festive that it is like a Christmas movie. Where are the carol singers and the trays of hot buttered rum? How could any child (or adult) fail to feel the joy of the season if they spent one minute  in this celebratory living room? The decorations framing the armoire are amazing. Of course, we love the antique armoires in our gallery so we are biased.
Do you prefer living room decorations that are a little simpler, while still keeping a sense of tradition? Perhaps this fireplace in Seattle, WA, will inspire you. The fireplace is decorated with traditional elements, for sure. You have the red and green holiday colors, plus Christmas ornaments, logs and a wreath, and old-fashioned lamps with candles. But the styling is streamlined, which creates an updated and sleek mood. The symmetry of the design adds to the feel too.
Or you can take a completely different approach and stick with traditional design elements – the bauble-lavished tree, the garland draped across the fireplace – but give it a fresh twist with non-traditional colors. The ultra-feminine pink and turquoise color palette in this living room creates a fantasy land mood. White deer statues add more magic to the fantasy.
In Part 2 of our Traditional Christmas Decor Tour we look at the kitchen, dining room, bedroom, and bathroom, all decorated with festive spirit!
These photos are from Houzz. You can find EuroLux Home on Houzz.com too.
Aimee owns EuroLuxHome.com with her husband and best friend, Greg. Aimee sources amazing antique furniture, vintage lighting, & high-quality reproduction furniture to help her customers decorate their homes in a unique way. She loves her 8 (you read that right) fuzzy children and is renovating a 1920s bungalow in South Carolina. Find us on Facebook or connect with EuroLux on Google+. Or you can sign up here to receive this blog in your inbox.